Eateries News
Please do not rely on the information on this page.
Check for yourself when you are in the restaurant.
After we launched the trans fat campaign by filing the Oreo case in 2003, we started reporting on restaurants and other eateries that had switched to trans fat-free oil. Now in 2007 it is impossible to keep with all of the tens or hundreds of thousands of restaurants making the switch. We will continue to report when major chains make the switch.
You will notice lower down this page some small and even single restaurant operations are mentioned. These were "early adopters." We are keeping them on this page because they took the lead before the big companies made their moves.
---
On August 2, 2007, the Center for Science in the Public Interest (CSPI) reported that Burger King and Wendy's are still serving New Yorkers French fries with more trans fat than is safe to consume in an entire day, according to new test results. CSPI reported that McDonald's French fries in New York City are virtually trans-free and have the least saturated fat of the three chains as well.

Click here for the report.
Click here for a New York Times article about the report.
---
On August 27, 2007, Dunkin' Donuts announced that all menu offerings in its restaurants will have zero grams of artery clogging trans fat by October 15, 2007.
Dunkin' Donut is not claiming it will become "trans fat free," but does say any trans fat in foods including doughnuts, croissants, muffins and cookies will fall below half a gram per serving. Federal regulations allow food labels to say they've got zero grams of trans fat, provided levels fall below 0.5 grams per serving.
About 400 locations nationwide that took part in a four-month test already have made the switch to a new blend of palm, soybean and cottonseed oils. That includes all restaurants in New York City and Philadelphia, where municipal leaders are forcing restaurants to phase out their use of artery-clogging trans fat.
Click here for an article.
---
On August 1, 2007, Subway announced that it has "eliminated all artificial trans fats from its core menu." We at BanTransFats are not sure what Subway means by its "core menu."
Click here for media release.
---
In July 2007, Burger King announced that two trans-fat-free oil blends had passed the company's criteria, allowing the company to begin the national launch. The company expects that every U.S. restaurant will be using trans-fat-free cooking oil by the end of 2008. If adequate supplies become available, the U.S. rollout of trans-fat-free oils could be completed "substantially sooner," the chain said.
"We are delighted by the outstanding consumer response to our new oil," Russ Klein, Burger King's president of global marketing, strategy and innovation, said in a statement. He said that in tests on over a dozen core items, consumers said food cooked in trans-fat-free oil tasted the same or better than products cooked in partially hydrogenated oil.
Click here for story.
---
Arby's has eliminated partially hydrogenated oils in french fries from supplier to restaurant and has completed the roll out of zero grams trans fat cooking oil in all of its restaurants nationwide. Arby's now uses non-hydrogenated corn oil instead of partially hydrogenated corn oil.

Arby's curly fries (small and medium servings) now contain zero grams of trans fat. In addition, over seventy percent of Arby's required menu items contain 0.5 grams or less of trans fatty acids (TFA).
Click here for media release.
---



CKE Restaurants, Inc. has announced that its Carl's Jr. and Hardee's restaurant chains will transition to a zero trans fat high oleic canola oil by January 2008.

Click here for media release.
---
The Canadian pizza chain, Boston Pizza, has eliminated all "industrially-added trans fats" from its menu.
Click here to read the story.
---
Applebee's International Inc. is no longer using partially hydrogenated frying oil at its more than 1,800 restaurants in the United States.
Click here to read the story.
---
Denny's has completed the system-wide rollout of a zero trans fat cooking oil in all of its 1,545 restaurants. The company says that it is working on introducing a tras fat-free margarine in its restaurants by mid-2007.
---
McDonald's has found a trans fat-free oil it deems worthy of its french fries, and plans to be using it for all its fried menu items by early 2008.
It's not easy getting information from the company
but finally we have some news
Click here and here to read the story.
Click here for the Chicago Tribune taste test. (Result: They taste exactly the same!)
---
On February 15, 2007, TGI Friday's announced that is is going trans fat-free.
Click here to read the story.
---
On January 31, 2007, Burger King announced that it is testing several trans fat-free cooking oils.
"We have been working for more than two years to identify trans fat-free cooking oils," said Schaufelberger. "Our goal has been to identify trans fat-free oils that allow for the same great taste and texture quality.
Burger King will secure commitments from its suppliers for the alternative oils, after in-restaurant testing is complete, in order to ensure a full, continuous supply for the more than 7,500 Burger King restaurants in the United States and Canada.
The company will meet New York City trans fat-free requirements in advance of its national rollout.
---
Jonny Rockets is going trans fat-free.
Click here for the story.
---
Bennigan's has switched to trans fat-free oil.
Click here for the story.
---
Starbucks is going trans fat-free in the United States and Canada by the end of 2007.
Click here for an article.
---
On June 12, 2006, MSNBC reported that the Cheesecake Factory is making changes.
The report states:
Another health-conscious change being tested in [the Cheesecake Factory's] Los Angeles restaurants: Completely trans fat free food menus. Okura and his team went through 20 different trans fat free products in order to find one that maintained good flavor, and with the clock ticking toward today one last menu item was giving him trouble: The sweet corn tamales.

In a blind taste test, Okura sampled three versions of the dish: One with a trans fat free product, followed by the current version, which has trans fats. And finally he tasted one with butter that ironically does not have trans fats.

Butter won out in the end, even though it's more expensive. What's the difference? It's creamier explains Okura.

The trans fat experiment, if it works, will be rolled out nationwide in two months. But some things at Cheesecake Factory won't be changing — the cheesecakes. After all, you don't mess with success. But you can tinker with everything else.
Click here for the MSNBC story and video.
---
On October 16, 2006, the Walt Disney Company introduced new food guidelines aimed at giving parents and children healthier eating options. The guidelines for licensed foods and promotions aimed at children will govern Disney's business partnerships and activities in the U.S. on a going-forward basis and will be adapted internationally over the next several years.
The new policies call for Disney to use its name and characters only on kid-focused products that meet specific guidelines, including limits on calories, fat, saturated fat and sugar. Disney also announced nutritionally-beneficial changes in the meals served to children at all Disney-operated restaurants in its parks and resorts and unveiled a company-wide plan to eliminate added trans fats from food served at its parks by the end of 2007 and from its licensed and promotional products by the end of 2008.

Yippee! Trans fat-free
Added trans fats are in the process of being removed from all Disney food offerings. Food served at the U.S. Disney parks and resorts will be free of added trans fats by the end of 2007. Disney's U.S. licensing and promotional groups are aiming to meet an end-2008 deadline.
Click here for the Disney media release.
---
KFC is now largely trans fat free. The zero grams of trans fat menu includes all of KFC's fried chicken products, such as its Original Recipe and Extra Crispy chicken, KFC Snacker sandwiches and potato wedges. We say largely because we are not sure about the biscuits and possibly other items at this time.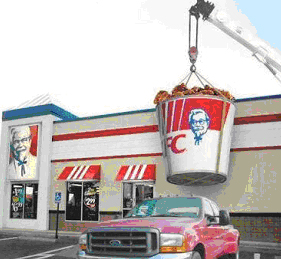 Removing the trans fat
Well done KFC!
Click here for the media release.
---
Taco Bell has converted all of its more than 4,200 single brand US restaurants to a new zero grams trans fat canola oil for frying from a partially hydrogenated soybean oil.
The bell tolls for trans fat
Click here to read the story.
---
Universal Studios theme park is offering trans fat-free foods at its U.S theme parks.
Universal Orlando's Islands of Adventure and Universal Studios will begin cooking and frying foods in 100 percent trans fat-free oil throughout most of their facilities. The goal is to make all food served in the parks trans-fat free by the end of 2007.
---
Loews Hotels has announced a chainwide ban of trans fats, including food served in its restaurants, meeting facilities and through room service. Loews, which has 18 hotels and resorts, is pledging that all of its fried foods will be free of trans fats by Feb. 1, 2007 with all salad dressing and pastries free of trans fats by April 1, 2007and all remaining food products free of trans fats by June 1, 2007.
Click here for information.
---
Supermarket operator Kroger Co. is using trans fat-free oil to fry chicken prepared in its stores. Kroger now uses a blend of non-hydrogenated vegetable oil to make fried chicken dinners, chicken wings and chicken tenders in its stores. Kroger's store brands include Kroger, City Market, Dillons, Food 4 Less, Fred Meyer, Fry's, King Soopers, QFC, Ralphs and Smith's.
---
Darden Restaurants has announced that it will switch out its existing frying oils at all 1,267 Red Lobster and Olive Garden restaurants, replacing them with zero trans fat canola oil.
Click here for the media release.
---
Bobby Van's steakhouses have switched to Carolina Soy Products Whole Harvest zero trans fat soybean oil for frying.
---
Longhorn Steakhouses have switched to trans-fat free frying oil.
---
Souper Salad, the largest soup and salad restaurant chain in the Southwest, has announced that it has become trans fat-free. "This was not an easy process for us since we serve hundreds of recipes with a huge number of ingredients," said Hazem Ouf, President and Chief Executive Officer of Souper Salad. "It was a massive undertaking that took more than a year to complete, but one we felt good about."
Click here for the media release.
---
Culver's says that it will will switch to zero trans fat cooking oil at its 300 plus locations in March 2007.
Click here for media release.
---
The Maine restaurant chain, Governor's Restaurant and Baker, has switched from a partially hydrogenated cooking oil to a cottonseed and canola oil blend in all seven of its restaurants. In a statement, Governor's president and CEO said three restaurants tested the new oil and found it lasted longer and made the food taste better. Click here for information.
---
South Carolina-based Charleston Crab House has switched to non-partially hydrogenated Wesson Crystal Smart Choice Cottonseed Canola Oil. Click here for information.
---
Jet Blue has announced that its on-board snacks are now trans-fat free. Click here for information.
---
Chili's says that they are using "100% soybean oil (trans fat free)" in kitchen fryers. "The oil is a proprietary formula developed specifically for our restaurants."
---
Pei Wei Asian Diner says that they only use non-partially hydrogenated soybean or canola oil in the preparation of food items.
---
Deep-dish-pizza maker Uno's has switched all 225 Uno's Chicago Grills worldwide to 100 percent trans fat-free French fries and has cut trans fat from all but two dishes - scampi and a peanut-butter-cup dessert. "As a restaurant company, we have an obligation to provide better nutrition if we can do so intelligently," says company CEO Frank Guidara said. "Our mantra is:'Whatever we do, we can't compromise on taste."
---
The Clean Plate Club Restaurant Group located in the greater Chicago area and operators of Pete Miller's Seafood & Prime Steak, Davis Street Fishmarket, and Merle's #1 Barbecue have completely eliminated trans fats from all menu items. The restaurant group started its path to trans fat free more than 18 months ago. "We started with changing to trans fat free oil in our fryers and found no difference in taste or accessibility to purchase the oil," says Larry Huber, owner of the Clean Plate Club. "The only issue is the oil needs to be changed more frequently, which actually is a plus because the food comes out tasting better and fresher." After the group was comfortable with the new fry oil, Director of Purchasing for the Clean Plate Club, Sarah Andrews, says that it took some effort to become totally trans fat free. "We definitely had to push our vendors to search hard for acceptable alternatives. And we had to do a lot of taste testing but we found items that were at least as good if not better. The bane of my existence for awhile was finding a replacement for one of our novelty items at the Davis Street Fishmarket: Tater Tots. I never knew how many people loved our tater tots until this process began so if we can serve a trans fat free tater tot that our customers love as much as the old one, anything can be done." Executive Chef Eardley Firth of Pete Miller's believes that keeping a trans fat free menu is simply good business and welcomes the challenge, "As a chef, flavor is most important but I quickly realized that trans fat free really can mean better and fresher." Pete Miller's Seafood & Prime Steak is located at 1557 Sherman Avenue in Evanston and at 412 N. Milwaukee Avenue in Wheeling. Davis Street Fishmarket is located at 501 Davis Street in Evanston. Merle's #1 Barbecue is located at 1727 Benson Avenue in Evanston.
---
In British Columbia, 17 Church's Chicken stores owned by Mono Moitra, have switched to a new type of canola oil called Canola Harvest HiLo. The oil is distributed by Canbra Foods and made from NEXERA canola seed that has been specially bred by Dow AgroSciences to yield a unique set of attributes, including zero trans fats and low levels of saturated fats. Moitra says that they conducted a 20-week customer count analysis upon switching to the healthier oil and reports an average increase of 3,586 customers per week, which he believes to be a result of advertising the healthier frying oil on store windows, on coupons, and through direct mail. This customer increase accounts for a double digit revenue growth for Church's. "More customers are coming through the door, and the best part is that they say they can't tell a difference in the taste," says Moitra. Additionally, Moitra hosts "Seniors Day" every Tuesday at his Church's locations, and since the switch, the customer count on Tuesdays has doubled.
Click here for the media release.
---
Rush University Medical Center in Chicago has switched to trans fat-free oil. Click here for the press release.
---
Stamford, CT-based Crab Shell has switched to trans fat-free Whole Harvest oil. Click here for information.
---
Ina's of Chicago is testing a new trans fat-free cooking oil. Click here for the press release.
---
On July 26, 2006, Skippers Chowder and Seafood House announced it is switching to Wesson Trans Fat-Free Frying Oil, a non-partially hydrogenated cooking oil. Skippers operates 60 corporate restaurants and four franchise restaurants in six states including Washington, Oregon, Idaho, Utah, Montana, and Alaska. Skippers also operates the Seattle Crab Co., a full-service dine-in seafood restaurant located on Northgate Way in Seattle, Washington. Click here for the press release.
---
Wendy's has switched to a new cooking oil that significantly cuts trans fats. According to the press release, Wendy's 6,300 U.S. and Canadian restaurants are using the new blend of corn and soybean oil. Click here to read the Wendy's press release. But see the Did You Know page.
---
Fatz Cafe now fries its foods in non-partially hydrogenated cooking oil. There are 31 Fatz Cafe restaurants in the Carolinas, Georgia and Tennessee.
---
Panera Breads has removed partially hydrogenated oils from its breads but not from other items.
---
Restaurants Pacini has become the first restaurant chain in Canada to eliminate all partially hydrogenated oils from its menu.
---
We at BanTransFats.com are very impressed by the accomplishment of the team at Jason's Deli. After five years of painstaking work, Jason's has eliminated partially hydrogenated oils from every food item at all of its 137 restaurants nationwide and all 1.6 million box lunches provided to schools annually. We believe that this is the largest successful anti-trans fat project to date by any restaurant chain in the United States. Congratulations Jason's (and owners Rusty Coco and Joe Tortorice). Brilliant work! Click here for information.
---
Leeann Chin, Asian To Go, is trans fat free. Leeann Chin operates more than 60 quick-service Chinese food restaurants in Minnesota under the names Leeann Chin and Chin's Asia Fresh.
---
Eat'n Park Restaurants, the Pittsburgh-area 79-restaurant chain, has switched to a frying oil containing no trans fats. Click here for a speech by the Chairman and CEO of Eat'n Park in which he discussed the transition to trans fat-free oil.
---
Fazoli's has announced that more than 50 menu Items have "Zero Gram Trans Fat."
---
Ruby Tuesday has switched to trans fat-free canola oil (but some foods are still pre-fried ("par-fried") in partially hydrogenated oil).
---
Ham's Restaurants have switched to trans fat-free soybean oil.
---
Au Bon Pain is selling trans fat-free muffins.
---
Legal Seafood uses trans fat-free oil.
---
New York Fries in Canada has gone trans fat-free.
---
Andy's eastern North Carolina switches to trans fat-free oil.
---
Newick's Restaurants have switched to trans fat-free canola oil.
Brad Newick, co-owner of Newick's Seafood Restaurants,
cooks fried clams in a new trans fat-free oil.
If he can do it in his restaurants,
why can't others?
Demand that your favorite restaurants
make the switch or you won't eat there again.
[Photo by Rich Beauchesne]
---

Many of you have written to food companies and received responses that are intentionally misleading and evasive. Well, one of our correspondents wrote to World Wraps and received an HONEST response. Thank you World Wraps for playing it straight with your customers. Here is the World Wraps response. Other food companies, please take note, honesty is the best policy.
"Thanks for your email; I apologize for the delay in getting back to you, I needed to confirm with our chef to be sure I gave you get an answer for you.

Since we make all our own sauces, marinades and dressings with no preservatives and only use fresh vegetables and meats, it's easy to assure you nothing we make in the restaurant, i.e. the ingredients INSIDE the wrapps, contain any hydrogenated oil or "trans fats." So any bowlls (wrapps without the tortilla) are fine.

Our tortillas, however, are made fresh by an outside local tortilla company and two out of the three flavors we serve do contain a transfat additive: the roma tomato and the lowfat tortilla both have it. The Spinach Tortilla, however, does not contain any hydrogenated oils.

The tortilla company is currently working to replace this ingredient in both those products and hopes to have revised recipes for them eliminating the transfat by the end of the year. In the meantime, I suggest you either order your favorite items in a bowll or substitute a spinach tortilla.

Thanks again for writing in with your question and thanks for choosing World Wrapps!

Sincerely,
Lindy Holmes
Director of Marketing
World Wrapps NW"
---
We received the following e-mail about restaurants in Bismark ND: "Trans fat free restaurants I have personally checked out are here are (1) Los Amigos-Canola oil (2) Hong Kong -Chinese- vegetable oil (3) Camly cuisine- Vietnamese-veg oil (4) Walrus Italian, except the margarine served with bread--ask for olive oil and they will give you. (5) Baked Expectations-- Bakery. Goods also sold at Cafe Aroma There may be others--Merriwethers and East Forty--I believe are trans fat free".
---
We received the following e-mail about a restaurant in Nepean, Ontario: "This is to inform you that the restaurant I manage does not use hydrogenated oil, margarine or lard in any of our cooking and preparation of our food We use pure vegetable oil, butter and fat free olive oil. The name of the restaurant is LAPOINTE FISH located in Ottawa at 194 Robertson Road, Nepean, Ontario. 613-596-9655"
---
We understand that The Angus Barn in Raleigh, NC is using a trans fat-free soybean oil. 94 Glenwood Avenue, Raleigh. They are using Whole Harvest Culinary Oil and say that their customers have made positive comments about the foods that are sautéed and fried with the oil and that they would "highly recommend it to anyone."
---
In Santa Rosa, California, Carter Doughnuts has opened a wholesale bakery dedicated to providing fine doughnuts made from the highest quality ingredients. The enterprise was founded by Mark Carter, an internationally acclaimed pastry chef who trained in Los Angeles and France and served as pastry chef for two of America's most highly regarded restaurants. While most doughnuts are made with powdered egg yolks and oil or shortening, Carter's are made using fresh eggs and butter. Flours and sugars are unrefined and organic, while cocoa and chocolate are from fair-trade sources. Carter Doughnuts are also unique in that they are prepared in non-hydrogenated, organic shortening, and are therefore free of trans-fats. Carter Doughnuts come in a variety of familiar favorites like cake, old-fashioned, chocolate and glazed. Other varieties include honey-wheat, syrah grape jelly filled, a multi-grain "pancake doughnut" with a maple glaze, and French beignets that look and taste like brioche. Seasonal and whimsical additions to the menu will be featured throughout the year. Doughnuts are available at a growing number of fine markets and coffee houses in Sonoma County, including Oliver's Market in Santa Rosa, Fiesta Market in Sebastopol, and Flying Goat in Healdsburg and Santa Rosa. Their suggested retail price is $1.25. For more information about Carter Doughnuts, call 707-206-2833.
---

Barbara who owns Barbara's Fishtrap Restaurant on Half Moon Bay, California says that they specialize in fish and chips and tempura calamari rings. She says that the oil of choice for their fryers is Rice Bran Oil because of its neutral flavor, color of product at presentation, and its health aspects especially zero trans-fat.


---
The Original Red Onion restaurant in Pinole, California is using trans fat-free California rice oil.
---
Letizia's Natural Bakery located at 2144 West Division Street, Chicago, IL 60622 has banned partially hydrogenated oils. Click here for information. Good job Letizia and Fabio Sarano!
© 2003-07 BanTransFats.com, Inc.